Christmas is coming and if you'll have lunch at home or in a nice restaurant you will surely want to brighten up your time, or your evening, with a good movie. Here is a little personal presentation of seven films to watch on December 25th. This is not a ranking, but just a simple list. 
The first title is a great classic that thinks of everyone, or "The Life is Wonderful" by Frank Capra. 
This 1946 classic is a true masterpiece and is considered to date one of the best films in history. In the original AFI ranking of the best one hundred American films was in eleventh place, and then occupied the twentieth in that of ten years later. If you have not seen it, recover it immediately. It is on Prime Video.
We remain on the subject of classic cinema because we can not speak of "Miracle on 34th Street". 
Another classic film that made the story of Christmas, certainly inspired by the work of Capra, since it came out the year after, 1947. It is a film that focuses on emotion and magic and is definitely a beautiful way to return children for a couple of hours.
Another must for Christmas is "Home Alone". 
Surely a not so well done film, but over the years it has become a real must, as well as for families. The story of Kevin, which is a home to challenge two thieves, has captured the hearts of big and small and always entertains.
Another perfect movie for families is "The Polar Express", the only animated film that I recommend.
Directed by Zemeckis, Oscar-winning director for Forrest Gump, this film by a boy who doubts the existence of Santa Claus and then finds himself on board a magical train that will make him understand the importance, beauty and magic of Christmas . A perfect movie for children but also for adults.
Last American film that I recommend is "A Christmas Story".
The protagonist is Ralphie adult who tells us a Christmas when he was a child through the cartoons. A funny but touching film that plays a lot with the sense of nostalgia and that gives a big part to Santa Claus. A film that can not miss.
And now, for the last two titles we move to Europe. Let's start with Britain and one of the best romantic comedies I've ever seen, that is "Love Actually".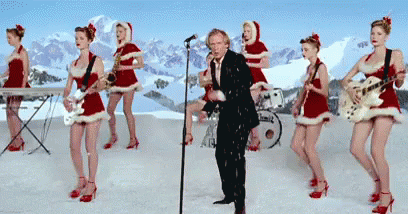 A film that can count on a great screenplay that combines fun, love and Christmas. Love Actually uses Christmas as a pretext to talk about love and the stories of these many couples. A fun and romantic film, ideal for party times.
The last film that is a French film: "Christmas Tale".
A black-comedy starring a mother who, ill, hopes that one of her children is compatible with bone marrow donation. Also in this case, Christmas is a pretext to analyze family relationships, both between mother and children, between sisters, etc.
And so ends the list of my seven perfect movies for Christmas. And what are yours? If you think that you miss someone, write down which one or more. I hope someone will watch one of these films and I can only wish you all a Merry Christmas! And thank you for reading.