The Haunting of Hill House is the brand new Netflix series released on October 12th inspired by Shrirley Jackson's novel "The Nightmare of Hill House", of which I have already reviewed. Here is the link: http://www.mjpsreviews.com/2018/10/16/the-haunting-of-hill-house-book-by-shirley-jackson-review/
The series was created, written and directed by Mike Flanagan, famous director of horror films, including Hush and Gerald's Game. Here is the review.
The Haunting of Hill House is completely different from the novel from which it takes its name, the only thing that remains the same is Hill House, and I mean the house, which is identical to the one described by Jackson and I think this was precisely the goal of Flanagan. Create a new story by paying homage to Hill House.
Protagonist is the Crain family, composed of seven people, parents and their five children. In the summer of 1992, the family moved temporarily to Hill House, with the intention of moving after reselling it, but it will not be long before strange things start happening, thus forcing the family to escape, but with a member in less.
26 years later, October 2018, something strange happens. Eleanor, the youngest of the five children, calls everybody mysteriously. Something's wrong. And this has something to do with Hill House and what happened 26 years earlier.
The series is very well written and manages to create a lot of tension. The first five episodes are used to make all the siblings known to us. One episode is dedicated to each of them and we see what happened to them before they all come together under one roof. From then on they will live everything together.
The writing of this series has three strong points: the construction of tension, the thriller and the dramatic aspect.
Flanagan was very classic in the construction of this horror series, also respecting the original novel. As already mentioned in the review of the novel, Jackson gave much weight to the feelings of her characters, to create terror in the reader. Flanagan does the same thing. We feel the tension and terror of the protagonists, and this construction is gradual. There are no jump-scares, which happen suddenly when you expect it, there are long scenes, where you wait for the monster to jump out, but it does not happen, he comes out slowly and is slowly coming towards us.
The paranormal thriller aspect, on the other hand, is a very Asian thing, even this very recovery from the novel, given that it is precisely a paranormal investigation to start events. Hill House is haunted, it's evil, but we can not fully understand what's happening, despite everything being under our eyes. And in the end, when all the knots come to a head, we find ourselves saying, "How did I not understand it?"
The last point is the dramatic vein. In fact, The Haunting of Hill House can also be seen as a family drama. It deals with very strong issues, such as parenting, family love, staying together and death, seen both as separation and as a union. Very particular vision.
Flanagan's direction is very good. Among other things, I found it even more energetic in Hill House than in his films. This is because he played a lot with directing, experimenting with various visions. Registically, the episodes are very little similar. Favorite? The last two were a bomb, but during the sixth I was very excited. This is because Flanagan refers to Hitchcock and one of his films in particular: Rope. Film composed of only ten takes, although it seems that the camera has never been turned off. The sixth episode is very similar. We have changes of take, but few, and they are almost all very long. As a Hitchcock fan it could not be my favorite.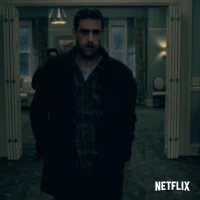 Beautiful sets, especially Hill House, wonderful sound and very dark photography.
That said, I can only advise you to see The Haunting of Hill House on Netflix and to let it overwhelm you.
Very good interpretation. Carlo Cugino and Kate Siegel the best. I hope to see them at the Emmys.
Rating: 84/100
My review ends here. I thank you for reading and I invite you to comment, anything you want to say is welcome, especially if you have already seen the series. If you liked my review, share it and follow my blog or via e-mail, or via Twitter and Facebook. This would help me a lot.
I leave you further the link of the review of the book: http://www.mjpsreviews.com/2018/10/16/the-haunting-of-hill-house-book-by-shirley-jackson-review/